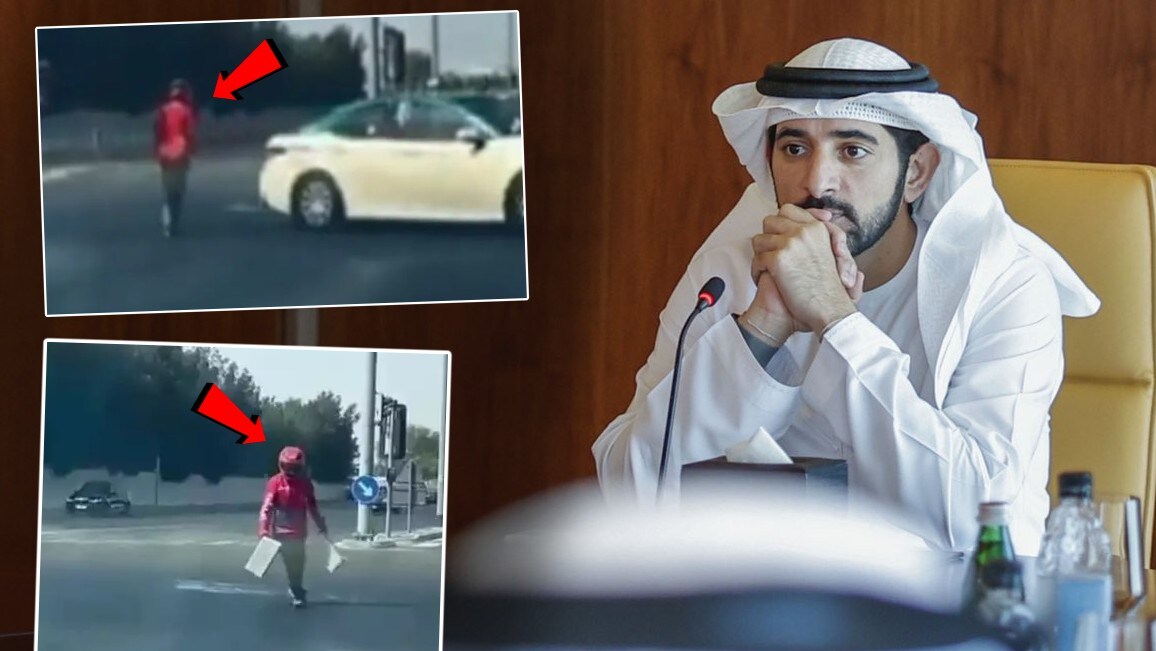 It is said that a good deed no matter how small is noticed. But a food delivery boy in Dubai got the real meaning of this saying when he was directly praised by the Prince of Dubai. After a short video of a good job done by this delivery boy went viral on social media, the Prince of Dubai took notice of his work and promised to meet this delivery boy soon.
Be sure to read >> Do you know the meaning of this 'traffic sign' with four black circles? After discussion on social media, the police gave the answer
The Prince of Dubai, Hamdan bin Mohammed Al Makhtoum shared this video on Twitter and praised this delivery boy. A delivery boy picked up two medium-sized concrete blocks lying in the middle of the road at a heavily trafficked intersection. A person sitting in the car at the signal captured the entire incident on a mobile camera from the car. This video was going viral on social media in Dubai for the past few days. This young man has been praised by many for avoiding a major accident by removing these bricks, including the Prince of Dubai.
Check it out >> Photos: 'Where is Eknath?', 'Mahashakti has passed you sir Shinde Saheb', 'First row with Fadnavis and…'; 'That' photo in Delhi is in discussion
This food delivery boy works for this company in 'Talaba'. While stopping at the signal, he saw two bricks lying in the square. Thinking that these bricks may cause an accident to a car, he stopped the car at the signal and picked up these bricks and placed them on the pavement. Sharing this video, the Prince of Dubai said, "This act of kindness in Dubai should be appreciated. Can someone tell me who this person is?" The prince of Dubai shared this video with such a caption.
The identity of this person came to light within minutes after the prince of the country, who now has over 46 lakh followers, directly asked for his identity. It was learned that the name of this young man is Abdul Ghafoor. After this, the Prince of Dubai tweeted again half an hour after the original tweet. "Understood who that good man is. Thanks Abdul Ghafoor. You are very kind. See you soon," said the Dubai prince while sharing a photo of Abdul.
After identifying the man, the Dubai prince called the delivery boy himself and thanked him for this small act, Khaleej Times reported. "I couldn't believe my ears," Abdul said when asked about the conversation. Abdul also said that I was out for food delivery when I got a call from Rajkumar. "The princes of Dubai thanked me for that small act I did. We are currently out of the country. But he also told me that I will definitely meet you when I come back," said Abdul.
Within minutes of Rajkumar tweeting the video, I received a call from the Dubai Police. They took all the information from me first. Then he told me that the prince wanted to talk to you, said Abdul. Directly after the prince took notice, Abdul's company also decided to gift him a plane ticket to visit his family in his home country of Pakistan. When asked when he would go home in this regard, Abdul smiled and replied, "I will go now only after meeting the princes."